Generally we look at weekend events in this listing, and use the Facebook page for weekday events. But this event Wednesday sounds too cool not to share.
On Wednesday, 11/14: The Numbers: Screening and Community Discussion:
"The Numbers is a 2017 documentary by Sika Stanton and Donovan Smith where young people living in East Portland speak on their hopes and concerns for their community.  After the screening there will be a Q&A and community discussion on people-powered neighborhood identity! With a live performance with Manny Lopez!"
Canton Grill, 2610 SE 82nd Ave * 6 pm – 9 pm * free 
***
Here's pre-leasing information on Orchards at Division and 82nd if you know someone looking for affordable housing in East Portland.
***
A recent story from KOIN details neighbors' concerns about the Westrock Recycling Plant.
FRIDAY
" … you can make a ticket reservation for David Douglas High Schools Production of Thoroughly Modern Millie!!! Go To the following link for more information about the show: Go here.
"'Thoroughly Modern Millie' tells the story of a small-town girl, Millie Dillmount, who comes to New York City to marry for money instead of love – a thoroughly modern aim in 1922, when women were just entering the workforce."
David Douglas High School, Howard F. Horner Performing Arts Center, 1400 SE 130th Ave * various times, through Nov 18th 
SATURDAY
Native American jewelry class:
"In this class we will be using traditional items such as bone beads and leather to create various jewelry. Students will have the opportunity to make a beaded necklace, a choker necklace or, for the older students, beaded earrings."
Midland Library, 805 SE 122nd Ave * 2 pm – 3:30 pm 
***
"
Meet the beetles, bugs, flies, lacewings and other invertebrates that provide free pest control. You will discover ways to attract and sustain these friendly beneficial insects that help your garden thrive.
4312 SE Stark St * 9 am – 11:30 am
***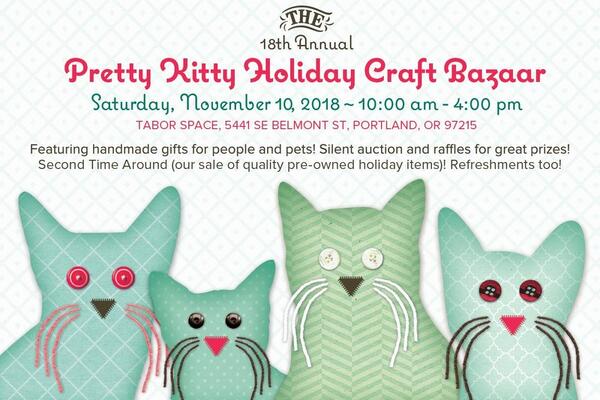 "House of Dreams (free roam, no kill cat shelter) popular, colorful bazaar features handmade gifts for people and pets, many using recycled content and vegan materials. There is a silent auction, raffle, Second Time Around gently-used holiday décor, door prizes, baked goods – vegan too. Silent auction closes at 2p and raffle closes at 3p. We accept donations of quality, hand-crafted items and all bazaar proceeds go directly to the care of the cats at House of Dreams – an all-volunteer non-profit organization."
Tabor Space, 5441 SE Belmont St * 10 am – 4 pm 
SUNDAY
Zenger Farm community cooking workshop w/ Chef Roxanna:
"Please join us and Community Chef Roxanna in cooking a community meal together, asRoxanna leads us in cooking the traditional foods of El Salvador!  We will be making stuffed El Salvadoran corn cakes or Pupusas, curtido (a cabbage salad), and salsas. Vegan/veggie options available. Please register here."
Zenger Farm, 11741 SE Foster Rd * 4 pm – 6:30 pm * $5 – $15  sliding scale
***
Punk Rock Sundays at Misdemeanor Meadows! This week, hosted by Bastard Salt.
Misdemeanor Meadows, 6920 SE 52nd Ave * 7 pm – 10 pm